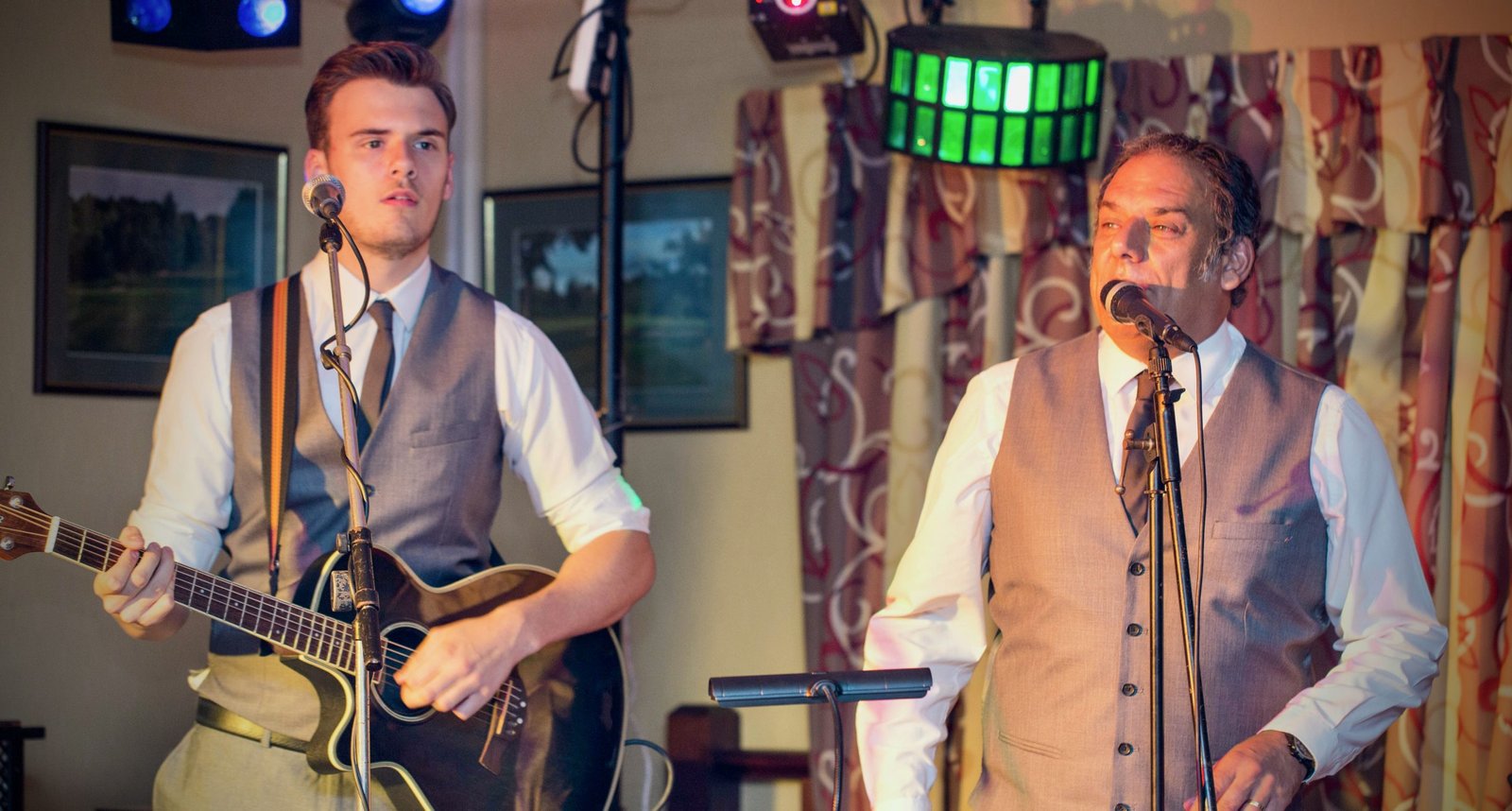 Why Choose Nottingham Acoustic Duo Eastbound and Down
When choosing Eastbound and Down Acoustic Wedding Duo you are guaranteed a professional duo who work with you to ensure the best time is had by all.
Whether you are choosing music for your wedding, private party, corporate event or you are looking for some entertainment for a pub, club or a retirement/residential home then you deserve the best. We may be based in Nottingham but travel and provide entertainment countrywide
Choosing live music for your wedding or event we know can be a daunting task, especially if you haven't done it before. You may be unsure of exactly what you are looking for, why not contact us and we can help you with some pointers.
Acoustic Duo Eastbound and Down
Are full time Professional Musicians.
Sometimes when you book entertainment, the members of the band have other jobs and just play music for a bit of fun and extra pocket money, there is nothing wrong with that and there is some fabulous entertainment out there.
Eastbound and Down Acoustic Duo and live wedding music specialists are a little different in that both Paul and Jack are full time musicians, their families have been full time musicians, they do not do anything else apart from working in the music industry from morning until night. They have a wealth of musical knowledge and experience in working many different events/occasions from the smallest party or pub to working theatres. They have a vast amount of years in the music business between them.
Your Pub, Club, Wedding, Party
Or Corporate Event Is Unique
Every event is totally different and can be very stressful to arrange, we understand this and work with you. If you wish you can decide what songs we perform or, you can leave it up to our professional judgement through years of providing the best entertainment and request a few special songs meaningful to you. Whatever you choose the end goal is for your wedding, party or corporate event to go off without a hitch and leave everyone happy and having a great time.
Do Eastbound and Down
Only Work As An Acoustic Duo
 If your require a larger presence, we can also work as a trio with piano/keyboards player or bass guitarist being added, if you want to go larger than that we also offer a full 4, 5 or 6 piece full band setup, again with all members being full time professional musicians.
Peace Of Mind
Fully Insured and PAT Tested.
 Another thing that you need to check when booking entertainment for your wedding or your event is whether or not your musicians are insured. Many venues will now not allow live musicians/bands to perform at their venue unless they have public liability insurance. Rest assured we are fully insured with the Musicians Union to the sum of £10 million.
For electrical safety our equipment is annually PAT Tested which is another requirement from a lot of venues today.
Eastbound and Down Acoustic Duo
We Are Nice People
We know some bands seem a little off with people and can be quite rude and in your face, we are a little different, we pride ourselves on being the ultimate professionals at all times, whilst on stage and off to ensure everything goes without a hitch.
Why not check out our song list or visit our video page where your can listen to a number of songs performed by us.
For any more information or wish to discuss your needs and check our availabilities then please contact Nottingham Acoustic Duo Eastbound and Down